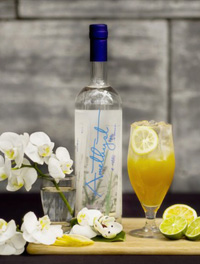 94 points, Tasting Panel Magazine July 2013
"Lavender blooms right under your nose: round, rich, and generous. The flavor is actually vapor distilled into this 90-proof corn-based gin from Ellensburg, Washington. White-washed vanilla "candle wax" surrounds a clean, enduring and subtly perfumed liquid lavender, hand-grown on the distiller's farm. No bitterness—just pleasure."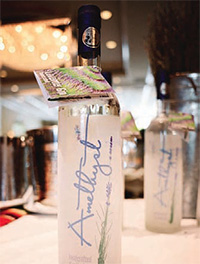 Tasting Panel Magazine June 2013
"While there were plenty of longtime industry vets in the room, there was one notable newcomer in Ralph Bullock, owner of Wildcat White Whisky and Amethyst Lavender Gin. Bullock and his wife, longtime lavender farmers, have entered the spirits business with two Washington State–produced products that are truly handcrafted and unique. "I'm a whiskey drinker," said Bullock, who grows the lavender that goes into Amethyst, "but I'm just completely captured by this product." We couldn't agree more, and fell in love with the delicate, super-smooth gin, which offered lovely floral aromatics that would shine in simple springtime recipes."
Rob Floyd & Chef Jamie Gwen
You heard it here! SLS Master Mixologist Rob Floyd & Chef Jamie Gwen stirring up The Poisoned Arrow with Amethyst Lavender Gin.
Chef Jamie Gwen & Chris Snyder
Have you heard about "The New Gin in Town?"
Where it comes from, how we make it. Listen in as Chris Snyder, of TAPS Fish House & Brewery, and Chef Jamie Gwen chat about Amethyst Lavender Gin. Thanks!